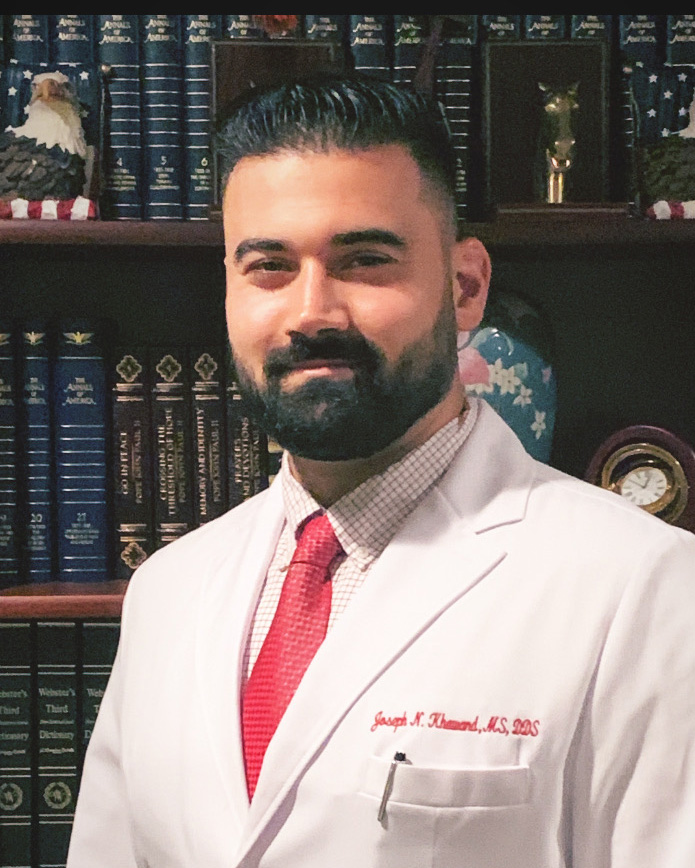 Dr. Joseph Khawand, aka "Dr. K", was born in Washington D.C., and grew up in the northern Virginia area. During his mid-teens, he began shadowing his family dentist and appreciated how the profession allowed him to work with his hands, help patients, and revealed a wide scope of practice. After shadowing practitioners in various offices and diverse specialties, Dr. Khawand decided dentistry was what he wanted to dedicate his life to.
After graduating from George Mason University with a Bachelor of Science in Biology, Dr. Khawand completed an accelerated Master of Biomedical Sciences program at Barry University in Miami, FL. Dr. Khawand also understands the value of research alongside clinical acumen and worked for one year at the National Institutes of Health in Maryland prior to beginning dental school. While in dental school at Howard University, Dr. Khawand developed a deep interest and passion for esthetic dentistry. For one of his final cases as a dental student, Dr. Khawand transformed a patient's smile, and received an award from the American Academy of Esthetic Dentistry. Always a believer in advancing one's training and education, Dr. Khawand attended a one-year General Practice Residency in Brooklyn's Previously Lutheran (currently NYU Langone) program. He advanced his training in emergency care, surgical procedures including third molar impacted teeth and implants, Invisalign®, cosmetic, and comprehensive full scope general dentistry.
After returning to the DMV area, Dr. Khawand looks forward to bringing the skills he has acquired to provide his patients with the best care possible. Because dentistry is a continuously evolving profession, Dr. Khawand has committed to continuing education to keep himself up to date on the latest innovations in the field.
Outside of work, Dr. Khawand has a very active lifestyle. He enjoys weight training and martial arts and is an avid Ultimate Fighting Championship fan. Other hobbies and pastimes include traveling, spending time with his family and friends, and experiencing the newest restaurants and lounges.